Quang Nam Chicken pass Le eat is to remember forever
If you have the opportunity to come to Quang Nam, it is very easy for you to find a bamboo chicken restaurant on Le pass, but if you want to enjoy delicious chicken in the right way, you must find it at the foot of Le pass in the land of Que Son.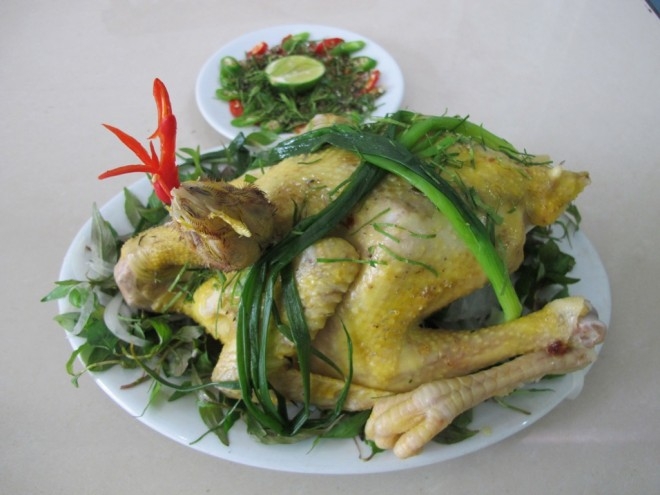 Le Pass Chicken can satisfy the most demanding diners
Many tourists who have come here think that, among the chickens that are classified as famous in Vietnam, one cannot fail to mention Le Pass Chicken.
Le pass chicken is a breed of bamboo chicken, raised on a completely natural free range, each weighing only about 0.5 - 0.7 kg. Chicken dishes include grilled, steamed onions and rotisserie... but the most popular is still boiled because diners don't have to wait long to enjoy this dish.
Chicken is boiled with smashed purple onions, served with laksa leaves, chopped lemon leaves... presented on a whole plate with a very eye-catching fairy wing shape.
A special thing here is that the restaurant is always equipped with scissors and plastic gloves for customers to cut the chicken themselves. Although not served until... teeth, cutting the chicken yourself, mixing it with laksa leaves, then dipping salt and pepper and enjoying it is also quite interesting.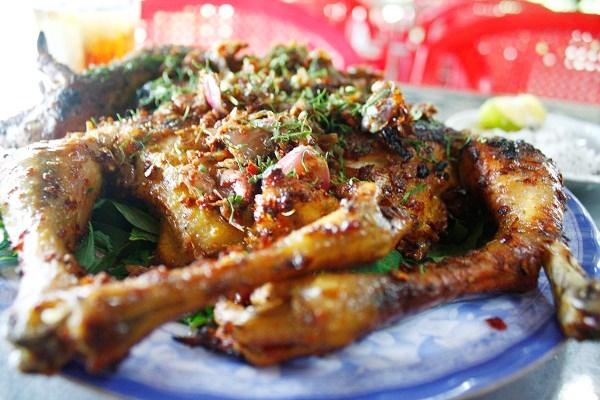 Fried chicken
Going to bamboo and chicken shops, you will see chickens in baskets, mainly young chickens, just give them to the owner of the restaurant if you like to eat. Chickens are raised naturally, when there are new customers to eat, they are boiled until just cooked, so it is very sweet. Indigenous people share, Le Pass chicken is so delicious and famous because it is processed with the cool fresh water of Nuoc Mat stream (a famous tourist destination of Que Son).
So, no matter how gourmet or fastidious you are, a piece of chicken that is firm, sweet but still soft, chewable with bones, served with salt and pepper, aromatic and spicy green chili with the right taste Quang Nam will definitely conquer you.
If you order grilled chicken or roti, you will have to wait 30-40 minutes because this dish has to be marinated and processed quite a bit longer. People here have their own way of marinating spices, compressed seeds, onions, paprika and other spices mixed in local phoenix oil to coat the chicken body when grilled. Then, the grilled chicken is rotated evenly on the charcoal stove so that it is not scorched and cooked evenly. When grilled, the chicken skin will become crispy, the meat is chewy and fragrant. And when the chicken dish is brought out, you will definitely not regret the time spent waiting.
Accompanying the above dishes is usually a bowl of hot porridge cooked from chicken broth and intestines.
Today, at the foot of Le Pass, there are dozens of chicken shops on both sides of the road with similar quality and prices. Le Pass chicken price is quite affordable, ranging from 140,000 - 160.00 VND/head depending on the restaurant, depending on the time.
So, if you have a chance to visit Que Son, don't forget to spend a day exploring Nuoc Mat stream and eat Le pass chicken. These will definitely be memorable travel and culinary experiences.
According to: Mai Anh (Traffic Newspaper)
Visitors can find delicious Le Pass chicken and bamboo restaurants:
Seven Girls
Address: DT611, Que Long commune, Que Son district, Quang Nam
Le Que Son Pass Chicken and Bamboo Restaurant
Address: 71-73 Lam Son, Tan Thanh Ward, Tam Ky, Quang Nam
Quan Hieu - Chicken Bamboo Deo Le
Address: M5JM+FV3, Que Long, Que Son, Quang Nam